"UNICORNS, UNICORNS, UNICORNS!"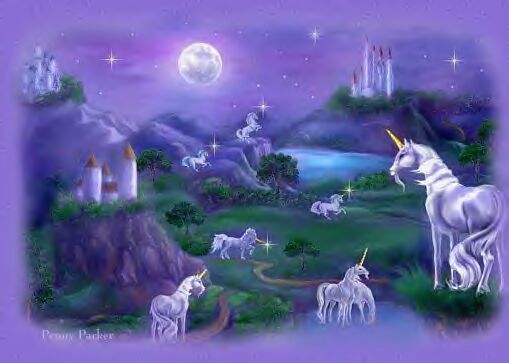 ~~UNICORN FACTS~~

"The unicorns were the most recognizable magic the faeries possessed,
and sent them to those worlds where belief in the magic was in danger of failing altogether.
After all there has to be some belief in magic - however small - for any world to survive".
~Terry Brooks~
"The Black Unicorn"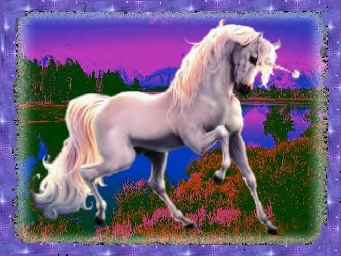 All the beasts obeyed Noah when he admitted them into the ark....
All but the unicorn.
Confident of his own strength, he boasted,
"I shall swim."

~Ukranian Folk Tale~







"Do you know,
I always thought unicorns were fabulous monsters, too?
I never saw one alive before!"
"Well, now that we have seen each other," said the unicorn,
"if you'll believe in me, I'll believe in you."
~Lewis Carroll~
"Through the Looking Glass"







"The unicorn,"she said,"was a marvelous beast,shining with honor,wisdom and strength."
"Just to see him, strengthened the soul."


"The Unicorn in the Maze"
~Megan Lindholm~

Submitted by:


Helene

12/31/01







God Himself must needs be traduced,
if there is no unicorn in the world.

~Edward Topsell~

Submitted by:


Helene

12/31/01




I do not have a link for the above beautiful image.
If you know to whom it belongs & can supply proof,
please let me know and I'll give credit or remove said image ASAP.
ŠLady B







"WHAT REALLY HAPPENED TO THE UNICORN?"




Submitted Helene

12/31/01













Remember,
every time you see a



another Unicorn has been born.




...and remember also...
Some of the best and most beautiful things in the world
can't be seen or touched...
They must be felt with the heart.

"United we stand".




WELCOME...
GUEST #:
---
"DIGITS"