LAND OF FAE

Never grow old;
Never grow bitter;
Where joy is wisdom,
And time an endless song.
Faeries are believed to be the guardians of nature,
and they tend to help those who share their mission.
Often mischievous, always compelling, faeries captivate the part
of us remaining young and open to the miraculous.

"When the first baby laughed for the first time...
the laugh broke into a thousand pieces and they went skipping about...
and that was the beginning of Faeries."
~Sir James Matthew Barrie~



FAERY FAVORITES
Apple trees...It is believed that fairies inhabit them and could enchant mortals who lingered beneath them and carry them off to Faeland.
Lily of the Valley...The tiny flowers and sweet smell are perfect size for the wee ones.
Rosemary...It is called the elf plant, and faelore states they are enchanted by the scent.
Thyme...This is their favorite! You may get a glimpse of your faeries playing delightfully amongst it.
Ferns...Grow them near the thyme beds with plenty of soft moss around and the faeries will make their beds in it!
Oak Tree...It is believed that holes near the bottom of old trees are the doorway to Faeland!
Forget-Me-Nots...Hold the blue flowers and wish....if you are pure and true...
the keys of Faeland will come to you.

IT IS SAID..
That a four leaf clover..
can give a person the power to see a Faery
even when they are in their invisible state!
With a four leaf clover in your possession,
you may have the power to break
faerie spells and see through their magic.

"FOUR-LEAF CLOVER"
FAERY SPELL
If a maid will slip a four-leaf clover into her left shoe,
tie a garland of myrtle and clover around her brow,
she will see the fairies as the moon comes up.
by: Claire Nahmad


FAERY RITUAL


Submitted by Thalannas Moonbeam.

The fae folk are elusive creatures, tempermental, and wild in nature. Calling upon them is like calling upon any force of nature; they must be treated with care, respect, and reverance. Faeries play by their own rules, and those humans that choose to play along with them must obey the faeries. Contact with wee ones should not be taken lightly! Their integrity is strong, but unusual by human standards. If faeries are approached correctly, they will be an honorable, powerful and delightful friend and ally.


THE FAERIE CALL

A spell for summoning fairies.
Sit where the cat sits. Cross your toes.
Close your eyes. And smell a rose.
Then say under your breath:
"I believe in fairies, sure as death."

Gadflykins! Gladtrypins!
Gutterpuss and Cass!
Come to me fairily
Each lad and lass!
Excerpt from
"Lady Cottington's Pressed Fairy Book"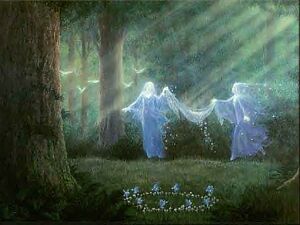 IF YOU SEE A FAERY RING..
If you see a faery ring In a field of grass,
Very lightly step around,
Tip-Toe as you pass,
Last night Faeries frolicked there
And they're sleeping somewhere near.
If you see a tiny faery
Lying fast asleep
Shut your eyes and run away,
Do not stay to peek!
Do not tell!
Or you'll break a faery spell.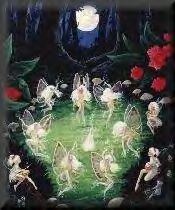 FAERY RINGS!
Often mentioned in tales of mythology.
Faeries dance in circles and when humans are lured inside,there is no escape!
Unless he/she is forced out by a human chain pulling him/her.
Inside time is different. A minute may be a day or several.
(This also, is how "The Land of Fae" is described.)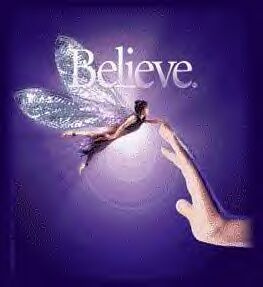 THE FOUR ELEMENTS